Slant a white woman's eyes ever so slightly and there's your diversity. Tan a white man's skin just a tiny bit- give him a well-placed tattoo and there again is your diversity. Introduce glamorous locations from other cultures and there's your diversity. Whites don't need people of color messing up the aesthetics of a film, it's just enough to 'hint' at the possible exotic origins of a white person and that's good enough for them. It hails back to the old argument; whites would like to be anything other than white but retain the privilege of whiteness.


The above quote comes from comment on a post I did about the upcoming film
Sucker Punch
(2011). Keep his words close in mind as we proceed through this difficult time.
Redefining the Asian American identity, my ass -
this article
annoys the ever-loving
shit
out of me - and I'm not talking about the Blasian part;
they
had valid issues. I'm talking about the same thing M. Gibson is talking about up above.
Let me start with this:
It's something that needs to be considered. As multiracial identity becomes the Asian American mainstream -- by 2020, it's projected that one out of five Asians in the U.S. will be multiracial; by 2050, that ratio will exceed one in three -- the population of persons with one-fourth Asian heritage or less is poised to spike.

"I'm half Japanese, and my husband is all Irish," says sociologist Dr. Rebecca Chiyoko King-O'Riain. "Our kids have very Celtic coloration -- pale skin and fair hair. They're not obviously Asian in appearance at all, and yet they still feel very connected with that part of their heritage. And that's becoming more common, particularly among Japanese Americans, where multiracial identity is so common. There's even a term for it I heard in California: 'Quapa.' If hapas are half Asians, quapas -- like my kids -- are quarter-Asians."

Quapas have an overwhelmingly non-Asian ancestry; many don't look Asian and don't have Asian surnames. Yet anecdotal evidence suggests that as Asian America becomes more multiracial, a growing number of quapa Asians are affirmatively reconnecting with their Asian heritage, and actively embracing a sense of Asian American identity -- challenging society's conventional means of defining race in the process.
If this mixed mother is so hell-bent on preserving her Japanese heritage and wants her kids to feel the same and all that jazz...why didn't she just marry a Japanese guy?
"Meeko"

For rising folk-pop star Meiko -- just the one name -- embracing the culture of her Japanese
grandmother Chikako was both an homage to a woman who'd played an outsized role in her life, and a way of turning her feelings of being different from a liability into an asset...

"Roberta only had about 800 people, and it was pretty much split down the middle, half black and half white," says Meiko. "I think there was one Mexican girl who came in as an exchange student when I was in 9th grade; other than that, my sister and I were the only ones who didn't fit on either team. But my grandmother taught me that being a quarter Japanese was something that made me special, and that's what I always felt."

Meiko and her older sister Kelly -- now a rising fashion designer and a host for E!'s "The Daily 10" -- were close to Chikako, a war bride who'd emigrated to the U.S. from Nagoya, Japan after marrying their grandfather. "We spent a lot of time with her when we were little," she says. "She got me addicted to sushi, which ruined my life, because good sushi is tough to find when you live in rural Georgia."

Chikako's death when Meiko was eight was a crushing blow. "After she passed away, I felt totally disconnected from my Japanese heritage," she says. "I wanted to know more about her and about that part of myself, but there was no way of doing that in the town we lived in. So I decided to change my name -- I started calling myself 'Meiko,' which I pronounced 'meeko.' And I know now that's totally wrong, but by the time I figured it out, it was kind of too late."
Okay, sooooo grandmama married a white dude. Aight, aight...then mama married
another
white dude. And now the granddaughter is toting around a name she mispronounced rather than researched...despite her close, deep connection with Japanese culture, mind you. I Googled Meiko, by the way: her friends, fans, and her pallid hairy beau are all white. Even though she has money and fame and could up and move to Japan tomorrow or to a Little Tokyo (or in the very least, simply marry a Japanese/Japanese American man), she ain't leaving the cushy confines of white privilege for a damn thing.
Let's continue.
Author Lisa See ("Snow Flower and the Secret Fan") has similar feelings about her heritage: Even though it's not evident in her strawberry-blonde, green-eyed features or obvious from her name
-- she notes that people are more likely to think she's connected to the candy business than Chinatown -- her sense of being Chinese is still at the core of her self-identity.
Lisa's 1/8th...see?

"In my first book, I wrote a line that sums up what I feel: 'I don't look very Chinese, but I'm Chinese in my heart,'" she says. "And every interview, every book event I've ever done, that's still the first thing everyone asks about. But the fact is, even though I'm only one-eighth Chinese, I grew up as a part of a very large Chinese American extended family -- I have around 400 relatives, and they're still my mirror; when I look inside myself, they look back."
Is that right? How convenient is it to be a POC "on the inside" while wearing white privilege on the outside? Because we all know a blonde, green-eyed white woman who is 1/8 Chinese knows all about experiencing racism and discrimination in America. She knows exactly how it feels to be invisible in American media...after all, green-eyed blondes so damn rare in Hollywood.
You know...most POC make fun of white folks and their "fractions" for a reason.
Jeff Yang, author of the article, is married to a white woman, in case you're wondering what would possess him to would put shit like this in print. The Blasian section almost redeems him.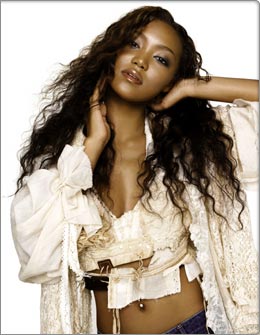 Crystal Kay, Japanese pop
singer of Black & Korean mix
Those
girls are
half
-Japanese, speak the damn language
fluently
, are fully versed in the various customs, and are at least
trying
to be involved in events with
other
Japanese people.
In other words,
they're
not running off to "breed the Asian out" over a course of multiple generations while still playing the Asian-on-the-inside-with-a-deep-connection card.
Take Moi, for example. My mother's ancestors came from Saudi Arabia. Arabs and Black Africans mixing together has been going on for over a thousand years - it's really nothing special, even though American jaws tend to drop like I just said something, like, totally awesome or whatever.
It's really not
.
I don't look like an Arab
. I don't speak Arabic. I don't get harassed in airports. And I consider myself black. But if I really wanted to immerse myself in the Arabic aspect of my ancestry, and pass that onto my descendants, I would do something similar to what the Blasians in this article did. And I would take it even further: I would save my money, study Arabic, move back to Cameroon ahead of schedule, and marry an Arabic man.
But I'm not, so I don't play the "I am an Arab and have a deep, special connection with Arabic culture" card -
because
I don't.
Tasha & TigerJK
Now, let me just go ahead and end this by bringing up another little *pattern* I've recently noticed. Blasian-born women, regardless of which parent is Asian, tend to gravitate towards Asian men. Blasian singer Amerie didn't do
a duet with Se7en
just for shits ang giggles - mm-mm, not with those lips of his. Blasian rapper and Korean Queen of Soul Tasha "
Yoon Mi Rae
" Reid is married to Korean rapper TigerJK and living in Korea - bitch is from
Texas
, y'all! And speaking of bitch, blogger BlasianBytch
definitely
loves her some Asian men. Commenters on here have mentioned Blasian singer Crystal Kay (shown above) - all
her
beaus are Asian.
And let's not forget our very own blogger Hateya. Hateya's father is Native American, and she's married to a man from Japan.
Have y'all ever Googled the
Ainu peoples of Japan
?