I figured it was high time I contribute to the dreamcasting tag. I was there when the idea for this series came about, and it is never too late, not to mention NaNoWriMo is around the corner. This year I plan on working on all the short story ideas I have accumulated throughout the year. So far, I know there is going to be at least three short stories and one novella (yes I am an ambitious lady). This submission will be one of the stories I will be working on next month, even though I have written with these characters before.
The idea for this (series of) short (stories) is basically the result of watching
Mononoke
, discovering the art site
A Yokai A Day
and the memory of the debate I had with a friend of a friend while the three of us drove around
Hachioji
arguing over which was stronger/scarier Japanese or West African ghosts. From the (unrelated) chapters I have written so far with these characters, the plot could be summarised as being about the diverse adventures of my take on a modern day
kusuriuri
who gets drawn into the lives of two quirky West African graduate students. In terms of genre, this would be a mix of horror, fantasy and science fiction (due to some of the advanced gadgets my ghost hunter uses). There is also a bit of comedy, the chapters I've written already have quite docile ghosts, include one match-making one, and a peeping tom, however I want the ghosts/demons to be more scary in future chapters.
Fatoumata Diawara as Nana
Nana is trying to concentrate on completing her studies in engineering at Kyoto when a strong feeling that there is an otherworldly presence in the apartment she shares with Afua overtakes her. It is a pity that Afua has travelled back home to Ghana, leaving Nana alone alone and Nana knows that she is not imagining things. It doesn't help that this presence seems oddly familiar and caring. When she finds out about a company called Zero Ghosts that promises to rid homes of all presences not limited to ghosts and demons, Nana is relieved. However calling the help of Zero Ghosts may give her more than what she bargained for, especially when it is revealed that there is more than one entity haunting her apartment and the other one isn't so friendly.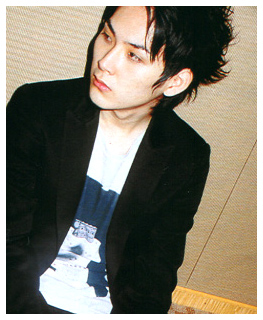 Ryuhei Matsuda as Takeo
Takeo can't help being aloof and disappointed when he misses out on an opportunity to battle the famous
Killing Stone
with his work mates because he has been assigned to relieve a small apartment of a haunting. His main goals in life are challenging the most frightening demons. Yet a series of mishaps leads to him being left out and now he is called upon by Nana who is more than 100% sure her apartment is being haunted. And by what kind of ghost, a match-making one?
Ama K Abebrese as Afua
Afua only came to Japan to study, not to be distracted by any supernatural beings or demons, she has had enough encounters with them while growing up in Ghana. However no one has to know this. Afua is alarmed when she returns from vacation only to discover that her roomate and friend, Nana has been dabbling in dangerous otherworldly affairs with a mysterious man who claims to vanquish ghosts and demons. She makes it her mission to dissuade Nana from associating with Takeo but instead finds herself drawn further away from her studies, and things are made worse when she finds that a demon has followed her to Kyoto from Accra.
Yoshitaka Yuriko as Sora
Sora is Nana's friend, she is mostly interested in any potential romance between her friend and Takeo. Sora would rather not be involved in any dealings with ghosts and demons, until she like Afua is drawn into it when her own dark secrets are revealed.
And there you have it. I am sorry if this doesn't make any sense, that is the way things are in my head, all jumbled up. I have written about 20 A4 pages with the characters above, the stories are mostly unrelated, but there are lots of ghosts, demons and some sex. I hope to refine things come November.