(h/t Angry Asian Man)
First... deal with this image.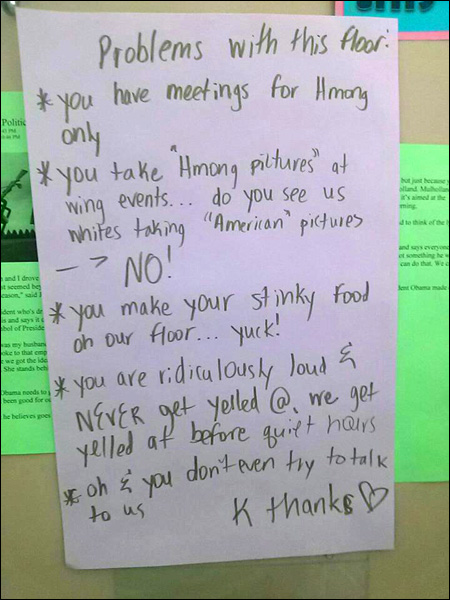 Now...let's talk.
"Oh and you don't even try to talk to us"?
Lesson the first, kids: white racists want you to like them. As much as they look down on you, they still really want you to like them. They want your loyalty, your friendship, and your admiration, and they feel entitled to it regardless of how they treat you. That's why they see nothing absolutely wrong or contradictory with 1) assuming that the default "American" is white, 2) criticizing people of another culture, AND 3) complaining about being ignored by those very same people. Nope; nothing contradictory whatsoever to do this all in the same breath (in this case, the same marker).
Why the hell would the Hmong students want to talk to these people
? With people like these living on the same floor, it's no wonder the Hmong need "meetings". I wouldn't surprised if such "meetings" involved an open bar, 'cause with dorm-mates like this girl here, liquid therapy is in order.
This bout of passive aggressive, whiny racism (Seriously? A sign posted in the bathroom?) is very telling. It is a very beautiful sign of the times. White folks like this girl here need to get used to being ignored and dismissed by their peers of color because the old days are truly gone.
I raise my glass of pink champagne to these Hmong students and their boss attitudes. This is some seriously "fuck you" behavior and it needs to be applauded.
By the way...is anyone else having flashbacks to Alexandra Wallace?