And didn't
Olympus Has Fallen
just
come out?
I have to ask because I tend to keep a body count of sorts when it comes to Asian men. If you pay attention, you'll notice that Asians guy die a
lot
in white Western media.
What gives?
From
Angry Asian Man
:
The Wolverine follows the further movie adventures of Logan, everybody's favorite admantium-clawed X-Man. And as we've known for a while, it's set in Japan. 20th Century Fox is dropping a bunch of new content this week, including artwork, photos and a trailer. From the looks of things, Logan is going to be raging and killing a lot of Asian dudes in this movie. Check out the ridiculous poster with all the ninjas: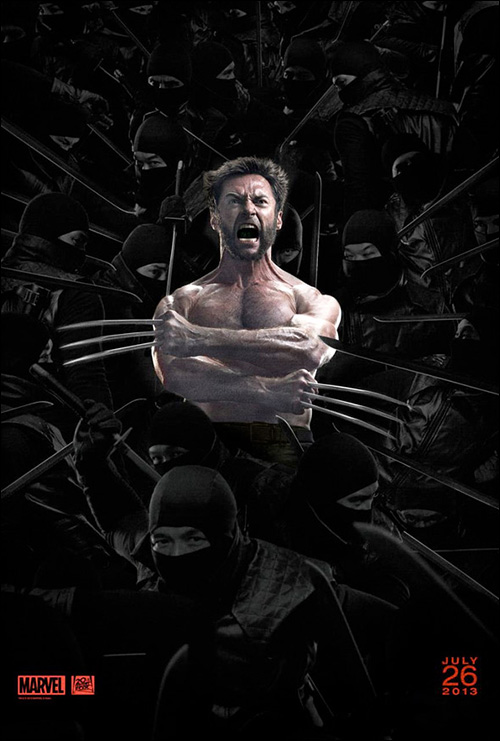 In addition to films like these (which often conveniently accompany any - and I do mean
any
- bad news out of Asia), there are now YouTube videos cropping up, like, every other month featuring some privileged twat-head bitching about Asians.
Just like America has made a concerted effort to use African American women as fodder, I've noticed a similar, consistent and even pricier effort towards Asian men. What is
that
all about? Like, I thought white guys weren't threatened by Asian men. I thought they didn't even acknowledge their existence (sarcasm, by the way).
Just like I loathe watching Negroes get offed in American horror films, I have been sick of the Asian body count in American action films for
decades
. And it's not just in films. Am I the only one who notices how Asian guys
die on TV shows
(where they are neither stars nor guests stars, and sometimes don't even have any lines) for no damn reason?
I get that the paycheck and exposure can be good, but I really wish Asians - and all POC by extension - would stop taking roles like these. I know actors like Edward Hong talk about the shortage of opportunities, and actors in general talk about needing to pay their bills, but we really have got to stop and ask ourselves:
whom does this benefit
? Really?
If you're a nameless Asian stunt guy with no lines, and whose sole purpose is to get slaughtered on screen, whom are you benefiting? Not Asian viewers, nor any viewers of color, I can tell you that. The reward - the paycheck - may last a few weeks or months but the
damage
lasts much longer, I can assure you. Whether you're trying to be a pioneer or not, or a role model or not, POC are looking for you, looking for your representation. These shortages and limits in roles? Those are
deliberate
roadblocks, obstacles thrown in the way
on purpose
to distort and diminish perceptions of POC. You wonder why average white people view our lives as worthless and expendable? Because in addition to cops taking out us with impunity, they see film after film after film literally glorifying their violence against us.
I don't care how good the money is. Why the hell do POC willingly contribute to this?